Bitcoin Era is a old scam trading signals software, which originally opened back in 2018. It is actually a duplicate software, from the same people who made the bitcoin code scam.
Here is what you need to know about Bitcoin Era app, before you become the next victim of the classic investment scam.
Bitcoin Era Scam
The problem is, that Bitcoin Era is just like all the other crypto investing scams that we have reviewed. They claim you will make huge profits of thousands per day, however the truth shows otherwise. Steve Robinson is actually a fake name, and they are just using a stock image. Fake news articles promote these websites, and the FCA warned investors about CySEC brokers using fake celebrity endorsements.
Immediately upon visiting their website, we saw their false promises plastered across the top of the page.
"Bitcoin Era members typically profit a minimum of $1100 daily."
The goal of this trading app, is to get you to open an investment account at one of their offshore CFD brokers like INVcenter, and for you to deposit money there. They display on their websites  BitcoinsEra.com & Btc-era.com, "Due to extremely high media demand, we will close registration as of today", but that is not true, because we opened 5 accounts over the past week.
Bitcoin Era Review
A real automated trading software is supposed to be based on technical indicators, generate real trade signals and trade on your account. When we signed up for the Bitcoin Era software, they simply ask you to deposit money into the brokerage account.
You have no ability to see the actual trading software, how it works, or if there are any risk management settings. Basically, BitcoinEra is actually just a "get rich quick" funnel, to get you to invest your money at an offshore / unlicensed broker.
An authentic algorithm trading app, will allow you to configure all aspects of the system, before you deposit money. Look at the popular software.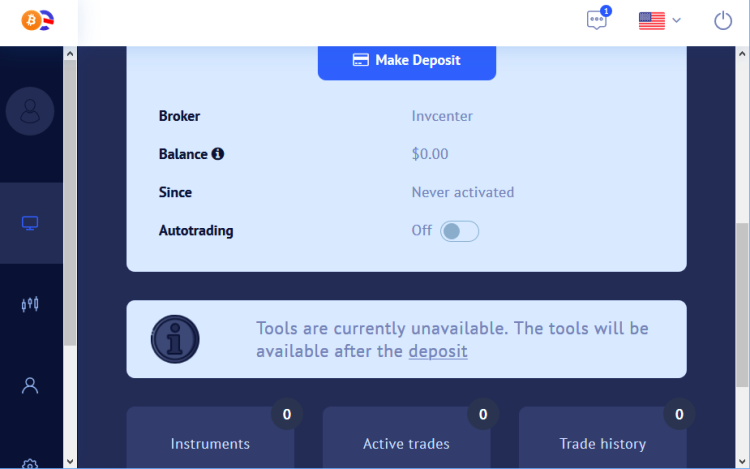 Warning! Don't Use Offshore Brokers…
It is important for every investor to know, that your money is held at a broker, and if that broker is not licensed, you will never see your money again!
When you learn how this scam operates, read this, you will understand why they would connect you with an unlicensed broker. If you are interested in trading Crypto CFD's, you can find a list of popular brokers here.
Please tell other investors which broker the Bitcoin Era app told you to use, in the comments section below.