FairBit is an unlicensed, unlicensed and offshore Forex Broker, that only opened recently on December 30th 2019.
FairBit Review – FairBit
is a SCAM. Do not trust this broker!  
Fair-Bit is owned and managed by; Frixty s.r.o. (reg num 07753454) and located at:  Tržiště 372/1, Prague 1, 118 00 Prague, Czech Republic. Contact phone numbers in United Kingdom is: +442038078409, and in Australia: +61283116641. Customer support email address is: [email protected] Official website is: https://www.fair-bit.com/.
For withdrawal problems and complaints read this.
FairBit Brokers Review
While reviewing this new broker FairBit, we saw that they have all the popular underlying assets for CFD trading on Forex, Market Indexes, Crypto Currency, Gold, Silver and Commodities. FairBit uses the simple PandaTS trading platform, without MT4 or a mobile trading app.
Newbie CFD investors must know the difference between trading and investing. People using a CFD (Contracts for Difference) broker, are simply trading and looking to profit from the underlying assets price movement. You do not actually own the underlying asset or currency.
FairBit makes no mention on their website of different account types, but usually the minimum deposit at "Get Rich Quick" broker is $250. Either way, you will receive plenty of phone calls from their salesmen asking for a bigger investment.
Look here, to see what licensed brokers offer!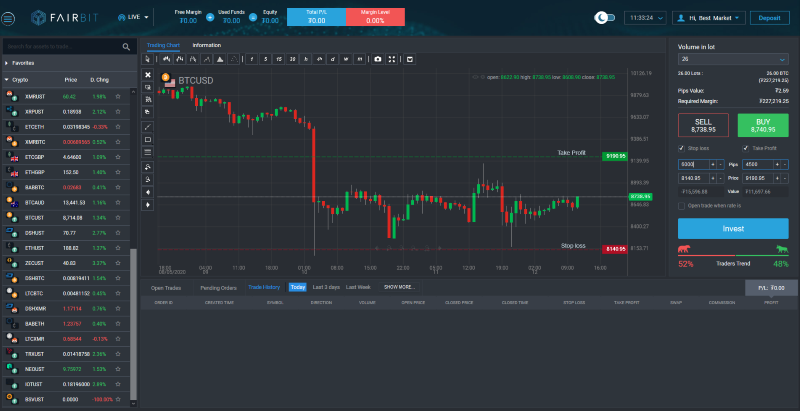 Is FairBit a Legit Broker?
No, FairBit is not a licensed CFD broker, and does not have any Financial Market Supervision license like the CNB in Czech Republic requires.
Brokers that offer investing or trading on Crypto Currencies, Shares or Forex is considered an investment service, which means they are required to have a license from your governments regulator. The difference between a licensed broker and an unlicensed broker is; who will insure your money when the broker goes out of business? Read more.
Crypto CFD brokers in Australia must be licensed and regulated by ASIC, like brokers in the UK, which are regulated by the FCA.