Needful Markets is an unlicensed Crypto and Forex CFD Broker, that opened in July 2019.
They do not disclose where they are located, or who owns the company. The phone number listed on their website is: +442039369033. Their email address is: [email protected], and the Official website is at: https://needfulmarkets.com/.
For problems and withdrawal issues, read more here.
Needful Markets Review
A quick review of this new broker called Needful Markets find that the trading app they are offering investors is made by Airsoft. It is a simple web-based CFD trading platform, and you not be able to use the industry standard MetaTrader4 or a mobile trading app. Take a look at the screenshot below, and you can see what their web-based trading platform looks like.
You will see hundreds of underlying assets available for CFD trading against the Dollar or Bitcoin including; Shares, Crypto Currency, Forex Pairs, Stocks, Commodities and Market Indexes.
Needful Markets website and trading platform is available in English, Spanish, Russian, German and Arabic. New investors are required to make a minimum deposit of $250, via a Visa or Mastercard in order to start trading CFDs.
Fake News Articles
For a details explanation of how the scams operate, you should read this article.
Basically, a legitimate looking article is written about how someone made thousands of dollars using a trading software like "Corona Fever". The truth is, the only person making money is the one who wrote the article! Before investing with an automated trading system, you should know that 99.9% of people lose money that way.
You are better off, investing with an regulated broker that offers free Trading Central alerts, see here.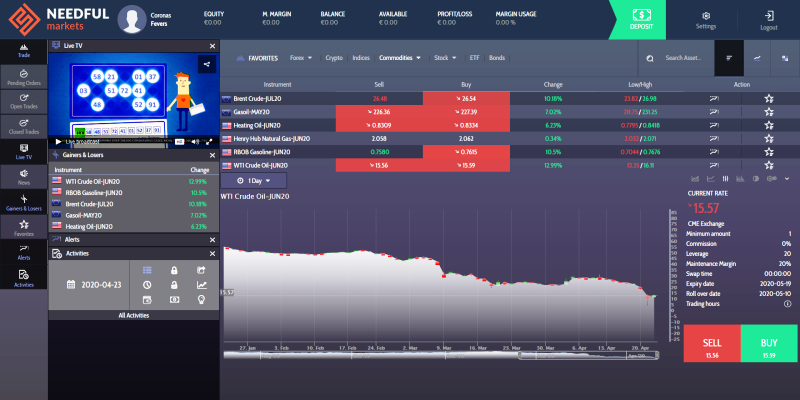 Is Needful Markets a Regulated Broker?
No, Needful Markets is not a licensed broker. All online brokers in Europe must be licensed and regulated by the financial regulatory agency in their country.
Scam Broker Investigator uses a simple method to determine if a Forex broker is legitimate or a scam broker. We look to see if the broker is licensed and regulated by anyone of the popular government regulators; FSCA South Africa, FCA United Kingdom or ASIC Australia.
For complaints or problems making a withdrawal you should read this article.

Australia ASIC Warning

"ASIC urges all investors considering trading in Forex to check they are dealing with an entity that holds an Australian financial services licence."
You can find popular Forex brokers that are licensed and regulated listed here.
Compare Licensed Brokers
There are many Crypto and Forex CFD brokers to choose from online, therefore, you should first look at some popular licensed brokers.
ForTrade is currently our most popular broker for new CFD investors. ForTrade is regulated in Australia, England and Canada, see here.
Try a Free Demo of their easy trading app, register here.
Are you currently investing with Needful Markets? Share your experience, with the new investors reading this review.