BullishCoin.net is another unlicensed, unlicensed and offshore Crypto & Forex CFD Broker, that opened recently, targeting investors that lost money trading.
BullishCoin Broker Review – BullishCoin
 is a SCAM. Do not trust this broker!  
BullishCoin Broker Review
BullishCoin offers investors a simple web based trading platform made by PandaTS. This web based trading software is used by many white label brokers, because it is easy to use. It is made for newbie Crypto investors, who don't want to take the time to learn a professional trading software like MetaTrader4. You will not find any mobile trading apps at this broker.
We can see that they are offering CFD trading on many underlying assets including; Forex, Commodities, Crypto, Individual Shares and Market Indexes. The minimum deposit requirement for a new trading account is $250.
99% of investors just like you, were directed to BullishCoin from a trading app like Bitcoin Loophole. Investors can learn about complaints and withdrawal problems by reading this article.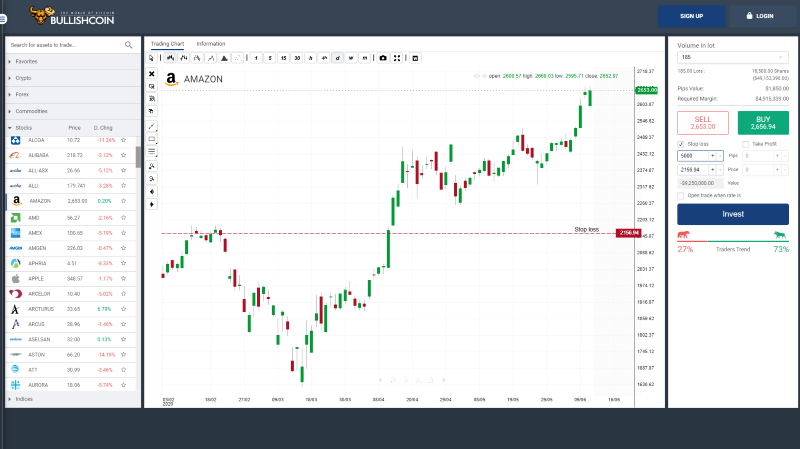 Is BullishCoin a Legit Broker?
No, BullishCoin is not licensed and they are not regulated. All online brokers must be regulated and licensed in the country they operate, like the FCA (Financial Conduct Authority) in the United Kingdom.
BullishCoin.net is owned and operated by: BS Creative Management Ltd, and they list an address of: Corner Old and Church Street, 2290, Roseau, Commonwealth of Dominica. BullishCoin lists a phone number in the Netherlands of: +31203082039, and a contact email address of: [email protected] Official website is at: https://bullishcoin.net/.
When the Scam Broker Investigator reviews a new broker to see if they are legitimate or a scam, we check for a valid brokers license. Before investing your money, read some real reviews of licensed brokers, and also look at the popular brokers listed here.